The "Auto-Master Lens" is a REVOLUTIONARY lens in REAR VISIBILITY; Which is EXTREMELY essential for ANY and ALL drivers to avoid accidental impacts while reversing towards any object; e.g. Cars, Posts, Shopping carts, and most importantly LITTLE CHILDREN and animals.

P.S. WE ARE EMPHASIZING THE SAFETY OF LITTLE CHILDREN BECAUSE HUNDREDS OF THEM HAVE BEEN RAN OVER AND DIED WHILE A VEHICLE WAS REVERSING AND THE DRIVER HAS NOT SEEN THEM DUE TO NOT HAVING A GOOD REAR VISIBILITY AND NOW THAT CAN BE STOPPED DUE TO THIS LENS REAR VISIBILITY ENHANCEMENT.


Notice the CHILD on the bicycle who's directly behind your vehicle. See how the *** Auto-Master Lens *** CLEARLY SHOWS the CHILD when looking through it, but looking through the rear glass ALONE, TOTALLY MISLEADS your vision and you DO NOT see the CHILD.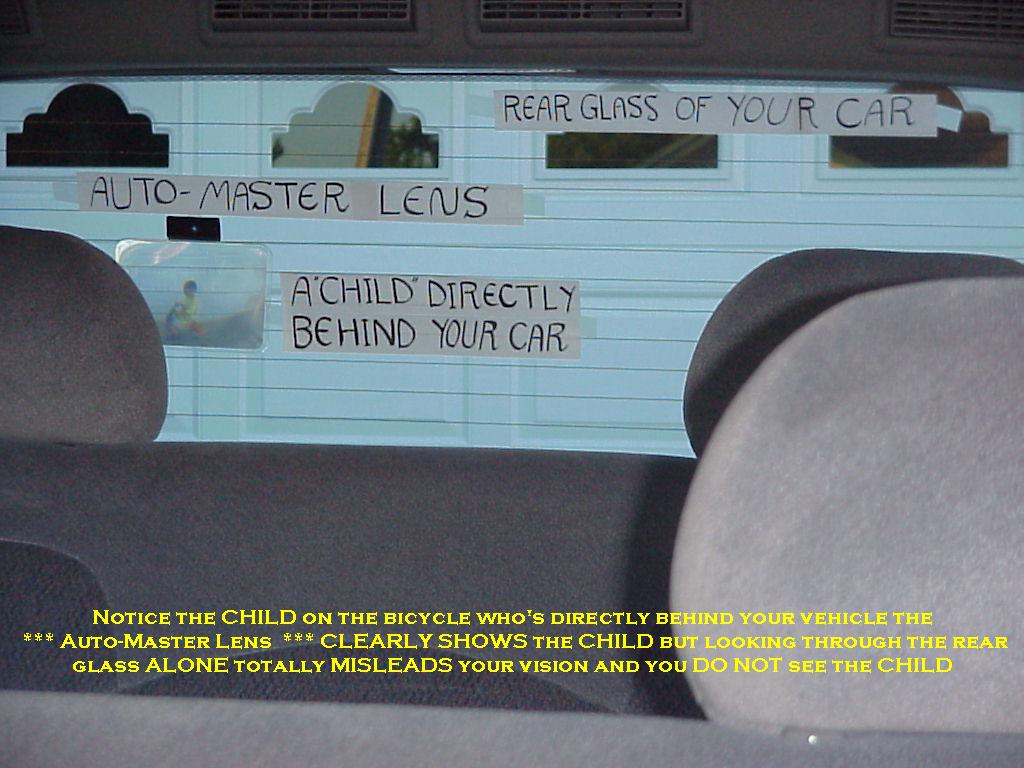 The Auto-Master Lens is an integrated lens that shifts the angle of reflection from the rear view of unseen low laying objects and ultimately elevates the view to the eye level, giving the driver full visibility of the existing object directly behind the vehicle that is lower than the clearance angle of visibility, that without it, the eye CANNOT see.

In simple terms, looking through the Auto-Master Lens, is exactly the same as kneeling on the back seat of the car and looking downwards out of the rear glass.

Therefore Auto-Master Lens makes reversing as safe and as easy as moving forward, with full visibility of low laying objects directly behind the vehicle.



Therefore, accordingly, every driver NEEDS one. Basically, the Auto-Master Lens in conjunction with the rear view mirror, PERFECTS REAR VISIBILITY, hence, if a car has a rear view mirror, it MUST have an Auto-Master Lens too.